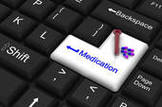 MS SYMPTOM MANAGEMENT
Medications and other medical procedures and strategies may be used to help treat some of the symptoms of MS. For instance, moderate exercise and yoga, as approved by one's physician, can help to reduce fatigue. Various types of counseling can be an important component in treating depression, often in conjunction with a prescribed medication. Cognitive evaluation and intervention can assist individuals with memory and processing issues, while several types of therapies (including physical, occupational, and speech) can help with a host of movement, strength, coordination, and other symptoms that can affect one's quality of life and daily functioning.

Below is a list of medications that may be prescribed or recommended by physicians for the treatment of MS symptoms. While this list includes many of the medications commonly prescribed for the individual symptoms noted, other drugs not appearing on the list may also be prescribed by a physician, depending on the specific circumstances and the doctor's preferences. Additionally, not all symptoms are included on this list; only those that may be treated with prescribed medications.


---