MS & Exercise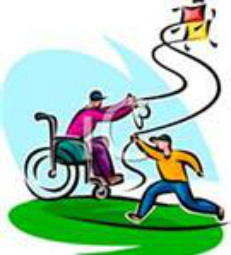 Just Keep Moving...
That's the best advice you can receive! There is strong evidence that the right
exercises benefitS MS patients. E
specially with the increased strength, flexibility
and
mobility it provides.
How do you muster up the motivation to exercise? Just do it!
Be practical, after all you're not training for a Triathlon!
Start slow with some simple stretching. You can sit on a floor mat, a free
standing chair or wheel chair. Breath in and out...Relax!
Below are links to MS exercise information, products and guided videos for in
home use.
Remember fight back by doing the right exercises that are tailored for the
physical limitations MS has created for you. Most of all STAY STRONG!
---
Exercise and Rehabilitation
It's getting clearer that exercise and rehabilitation can help many levels of function and quality of life for people living with MS. This year, ECTRIMS is being held in conjunction with the 18th Annual Conference of Rehabilitation in MS, and I've been impressed by the extent to which researchers are applying creative strategies to study and maximize the potential benefits of rehab and exercise to address MS.
http://www.msconnection.org/Blog/October-2013/More-on-Exercise-and-Rehabilitation
WebMD
Multiple Sclerosis and Exercise
Exercise
can help ease the symptoms of
multiple sclerosis
, but it's important to take certain precautions if you want your
exercise program
to be successful. The most important thing to remember is to not overdo it.
You may have heard the mottos "no pain, no gain" or "feel the burn," but those approaches are counterproductive for people with MS. If you overdo it you can end up straining an already compromised muscular system, increasing pain and causing your body and mind to become overstressed, overworked, and overtired.
Check with your doctor before beginning any exercise program. He or she may make recommendations about:
The types of exercise best suited to you and those which you should avoid
The intensity of the workout (how hard you should be working)
The duration of your workout and any physical limitations
Referrals to other professionals, such as a physical therapist, who can help create a personal exercise program that meets your needs. The type of exercise that works best for you depends on your symptoms, fitness level, and overall health.
ArticlesDisaboom
http://www.disaboom.com/multiple-sclerosis-ms/best-exercises-for-multiple
-sclerosis
Everyday Health
http://www.everydayhealth.com/multiple-sclerosis/multiple-s
clerosis-and-exercise.aspx
MS Active Source
http://www.everydayhealth.com/multiple-sclerosis-basics.aspx
Restorative Therapies
http://www.restorative-therapies.com/ms?gclid=CN6jr-2-
i7ECFQF_hwodFlR2kA
WebMD
http://www.webmd.com/multiple-sclerosis/guide/multiple-sclerosis-exercise
Exercises
6 Great Exercises That Make Living With MS Easier
Exercise offers specific advantages when you have multiple sclerosis. Exercise can improve your heart and lung health. It can help you maintain your range of motion and stay flexible, increase your energy level, and help prevent your muscles from wasting away. Get your doctor's okay to start, and then ease your way into these six stretching and strengthening moves.
1.
Deep-Breathing Exercise
Practice this deep-breathing technique to relax, relieve
stress
, and get more energy. Lie on your back on the floor, knees bent, feet flat. Place one hand on your stomach and the other on your chest. Feel your chest move up and down as you breathe normally. Take a deep breath in through your nose, keeping your mouth closed. Count to three, then exhale by slowly blowing out with lips pursed as you count to six. Tighten your stomach muscles as you exhale.
2.
Deep Breathing With Arm Raises
This exercise is good for improving your shoulders' range of motion. Start in the same position as the previous exercise, with your arms at your sides. As you take a deep breath, raise your arms up toward the ceiling, and then down toward the floor. As you exhale, extend your arms outward and sweep them along the floor until they're back at your sides, as though you were making a snow angel. Keep your tummy muscles tight.
3.
Knee Hugger
This exercise improves range of motion in your back and your hips. Lie on your back on the floor with your knees bent. Straighten your right leg on the floor, and then bend it up toward your chest. Wrap your arms around it. Hold for a moment, then place the foot back on the floor with your knee bent. Repeat with your left leg.
4.
Twisting on the Floor
Increase your range of motion in your back with side-to-side twists. Lie on your back on the floor, arms at your sides, knees bent and together, and feet flat. Twist to the left to bring both knees down to the floor (your butt and lower back will lift off the floor as you do this, but keep shoulders flat). Your knees may not go all the way to the floor. Hold for a moment, and then return to the starting position. Repeat on the other side.
5.
Twisting on All Fours
This exercise targets your upper body, focusing on improving the range of motion in your back and chest muscles. Start on your hands and knees. Then, with your right arm, reach under your body and across to the left side. Reverse direction. With the same arm, reach out to your right side. Raise your arm as high up as feels comfortable. Follow your arm with your eyes. Keep the movement slow and controlled. Repeat with your left arm.
6.
No Pain in the Neck
To reduce tension in your neck and shoulders, try the ear-to-shoulder roll: Sit in a chair and hold your head straight. Bring your right ear down toward your shoulder. Then, relax the shoulder, letting it drop slightly. Hold the position for 30 seconds, as you lean forward and look toward the ground. Repeat on the other side.
Moving Fitness to the Next Level
Exercise encourages more exercise. When you're ready to take the next step, ask your doctor about working with a physical therapist, personal trainer, or physiologist. These experts can plan a safe exercise program to help you maintain your flexibility and further improve your range of motion. They can also adapt exercises for your abilities and muscle strength.
Exercise Equipment
Wheelchair Work-Out Store
http://wheelchairworkoutstore.com/Wheelchair-Workout-Kit-Wheelchair-
Workou
Kit.htm
Living Strong
http://www.livestrong.com/article/396233-exercise-equipment-for-ms-patients/
Mombu
http://www.mombu.com/medicine/general-body/t-sweat-free-no-effort-exercise-machine-multiple-
sclerosis-arthritis-osteoporosis-exercise-3086670.html
Theracycle
http://www.theracycle.com/conditions/multiple-sclerosis-MS-exercise-benefits.aspx
MS Exercise Videos
Circulation Exercises
http://www.youtube.com/watch?feature=endscreen&NR=1&v=UH-Q8-p29ww
MS & Exercise Part 1
http://www.youtube.com/watch?v=73MNYGsPzqQ&feature=related
You Tube-Walking w/MS
http://www.youtube.com/watch?v=iDeop2tSw7o
Sitting Exercises
http://www.youtube.com/watch?v=EZUdg_KVIN4&feature=related
Leg Lifts & foot Exercises
http://www.youtube.com/watch?v=YAaSDkFQBZ0&feature=related
Pilates
http://www.youtube.com/watch?
Floor Exercises
http://www.dailystrength.org/c/Multiple_Sclerosis_MS/forum/15063628-ms-exercises